June 19th, 2012 marks NullCandy's first real milestone: one full month of existence in the Windows Phone 7 marketplace! So, in celebration, let's take a look at our numbers, both for the sake of internal accountability, and also to shed some light on our performance for all you aspiring indie developers out there.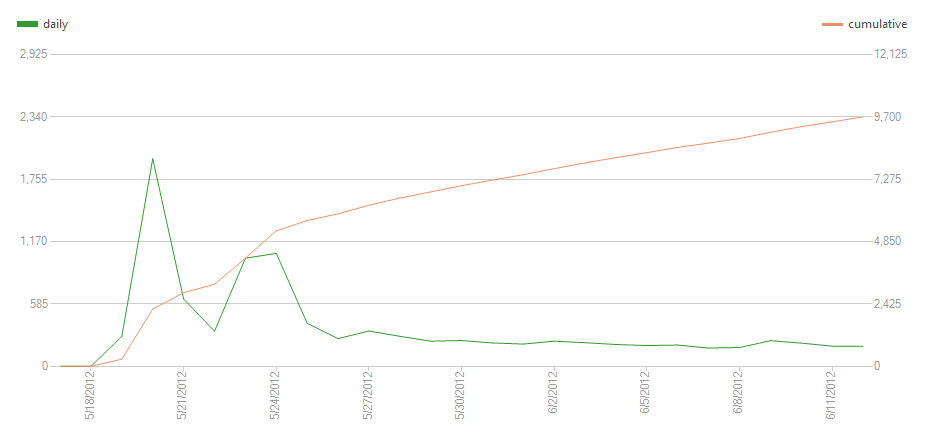 As you can see above, we received our very first downloads on May 19th, which was when RockSquare and Juggling were released, resulting in a nice little spike (daily downloads are in green, cumulative in orange). Follow The Curve's certification took a little longer and didn't get published until after the weekend, which gave us a secondary download spike starting roughly on Tuesday, May 22nd.
The daily download rate drops quickly, however, because as soon as you're no longer on the "New" page, people have go out of their way and dig in the app subsections to find your game. This is roughly equivalent to walking into your local game shop and having to ask a clerk to check and see if they have any copies of your favourite game in the back, because it isn't on the front shelves. Not exactly ideal.
There is good news, however. You can combat this decline by pushing updates for your apps, because this provide two nice benefits. First, this tells your users that you're a committed developer and will continue to support and update your game, which entices them to play more. Second, if you have any sort of following (such as a blog), no matter how small, you'll probably see an increase in downloads as the word spreads. Unfortunately we don't have any download numbers to confirm or deny this yet, mainly because the App Hub is quite slow on the uptake (6 day delay!), but as soon as we get meaningful data on the performance of our updates, we'll be sure to share.
Now, having a graph like the one above is nice, but as we quickly found out, it's really not enough information. It's important to gather stats on how long the average play session is, how well they do in the game, and so on, because with data like that, you can better balance and improve your game. So, over the past month, part of our work was devoted to adding analytics into all of our apps, such that we can start gathering exhaustive amounts of data with the release of updates 1.1 across our three games. We'll let you know the results on this too, as soon as they become meaningful.